[youtube_sc url="http://youtu.be/_mskwqS67Z8″ rel="0″]
Getiton.com reviews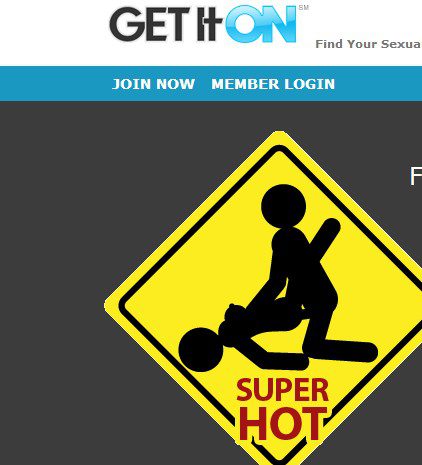 Introduction and history of site
Getiton.com, also known as Get It On, is an online dating website that targets people that want casual sexual encounters and one night stands, or otherwise sexual relationships. The website is part of the Friend Finder Network and has been around since 1999.
Amount of members
Getiton.com currently has over 15 million users, making it one of the biggest online dating websites in the niche.
Features
Getiton.com offers you several features that you might otherwise also find on other dating websites. For one, profile making and customization is of course present – as well as messaging options and other livechat options. You can rate other members based on photographs and videos and search for other members based on several parameters. The website is unique in its compatibility test, in which you fill out a questionnaire and you will get potential partners based on your sexual preferences.
Cost for members
Getiton.com offers a basic membership that is completely free, and of course also offers paid premium memberships. If you want a premium membership, you will have to pay $26.99 a month if you only want one month of subscription. If you want 3 months of subscription, you pay $53.99 and you get one month for free. If you take on 12 months of subscription you get 6 months for free and you will have to pay $134.99.
Corporate Info / Contact info:
Getiton.com is part of FriendFinder Networks, a company that operates several dating sites that total up to 528 million members. Anthony Previte is behind the wheel as the CEO of FriendFinder Networks. The list of corporate officers is subsequently filled with Ezra Shashoua, who is FriendFinder Networks' CFO and James Sullivan, that is the current acting COO. The co-chairmen of the board are Marc H. Bell and Daniel C. Staton, who both have extensive CEO experience at other multinationals.
Although FriendFinder Networks has several offices in the U.S. (New York, California) and the UK, but its HQ is based in Florida. The address of the headquarters:
NoStringsAttached.com
6800 Broken Sound Parkway, Suite 200
Boca Raton (FL 33487)
Getiton.com is reachable by phone through (561) 912-7000.
Concluding comments as far as our impression of this site:
Getiton.com is one of the most interesting online dating websites if you are out and about for a one night stand because it's sexual compatibility test offers you a great insight in your own sex life – and that of your potential bed partner. Be sure to check out the website if you are looking for a sexual adventure. That being said, we still give a nod to Adult Friend Finder over this site. Check out adult friend finder here and compare.